Supporting Publications
WCTRS Official Publications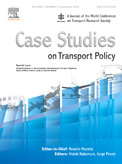 Case Studies on Transport Policy covers this gap by providing a repository of relevant material to support teaching and transferability of experiences. Observation of field experience highlighting the details and drawbacks of implementation is invaluable to show how Transport Policy can be applied in the operational field, maintaining consistency with strategic options. Teaching with case studies introduces students to challenges they may face in the real world, and provides a very rich learning method for executive training at every institutional level. For practitioners, and specially governments, case studies are a powerful tool to show the potential benefits from policy measures and packages.
---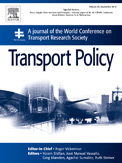 Transport Policy is an international refereed journal aimed at bridging the gap between theory and practice in transport. Its subject areas reflect the concerns of policymakers in government, industry, voluntary organisations and the public at large, providing independent, original and rigorous analysis to understand how policy decisions have been taken, monitor their effects, and suggest how they may be improved.
---
As with the 2016 Shanghai conference, the WCTRS will develop special issues with several partner journals. The papers of the 2016 WCTR were published in Transportation Research Procedia (TRPRO), in 12 special issues of high quality, transport oriented journals and numerous stand-alone publications. We are currently aiming for recognition of Transportation Research Procedia (TRPRO) in Engineering Index (EI/Compendex). More information will be posted on the website about partner journals and special issues during the year.