Exhibitor
PTV Group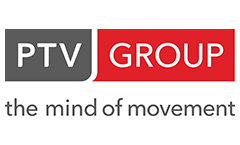 PTV Group is the only company worldwide that plans and optimizes everything that moves people and goods– whether transport routes, sales structures or private and public transport, all integrated and in real time. Customers in more than 120 countries rely on our high-performance solutions.

PTV Group is committed to meeting the requirements of the future and taking an active part in shaping it in a responsible manner. To this end, the company provides advanced software solutions and consulting services and is involved in forward-looking projects. Moreover, PTV is an active member of political, business and scientific associations as well as supranational networks. It is above all a matter of seeing mobility as a composite whole and helping to create and optimize urban logistics and passenger transport at the same time.

Over 600 employees worldwide are working on these solutions at PTV Group. Our scientific expertise is our strength and we continually invest a large proportion of our profits in the further development of our products, as well as in research. Our head office is located in the technology region of Karlsruhe in Germany and has been a center of development and innovation since the company was founded in 1979.

In China, PTV Group has a subsidiary located in Shanghai since 2005. PTV  Software Technology (Shanghai) CO.,LTD provide PTV Vision Software (PTV Visum, PTV Vissim, PTV Viswalk, PTV Vistro, PTV Safety, PTV Optima, PTV Epics, PTV Balance) and professional service (training and consulting). We have 7 employees in Shanghai, Beijing and Hong Kong.  During more than 10 years development in China, now we have more than 360 customers, located nearly 80 cities in China.
« Go Back